Protective oversoldes for track and field spikes
Athletics without limits with KEY ONE spike guards.
KEY ONE cover a wide range of shoe sizes, to allowto fit all athletes.
KEY ONE are available in 4 sizes covering toe sizes 37 to 48.5.
Each Key One size covers 3 sizes of spikes.
Size 1 : sizes 37 to 40
Size 2 : sizes 40 to 42
Size 3 : sizes 42,5 to 46,5
Size 4 : sizes 47 to 48,5
Example: your size is 41, you must choose a Size 2 for your Key One. 
Please note that carbon tips are specific. We advise you to add a size to your usual tip size when choosing your KEY ONE size.
PROTECTION FOR ALL BRANDS
KEY ONE are suitable for all brands of spikes You can choose any brand of spikes, the Key One will fit. .
The Key One will always be by your side, no matter what brand of spikes you use.
PROTECT YOUR SPIKES ACCORDING TO YOUR DISCIPLINE
KEY ONE's are suitable for almost all athletic disciplines. they are suitable for sprint, middle-distance, long-distance and pole vaulting because of their same shape.
In the future we will offer a product adapted to the disciplines: triple jump, high jump and javelin.

To help us find a solution, please let us know your interest using the contact form.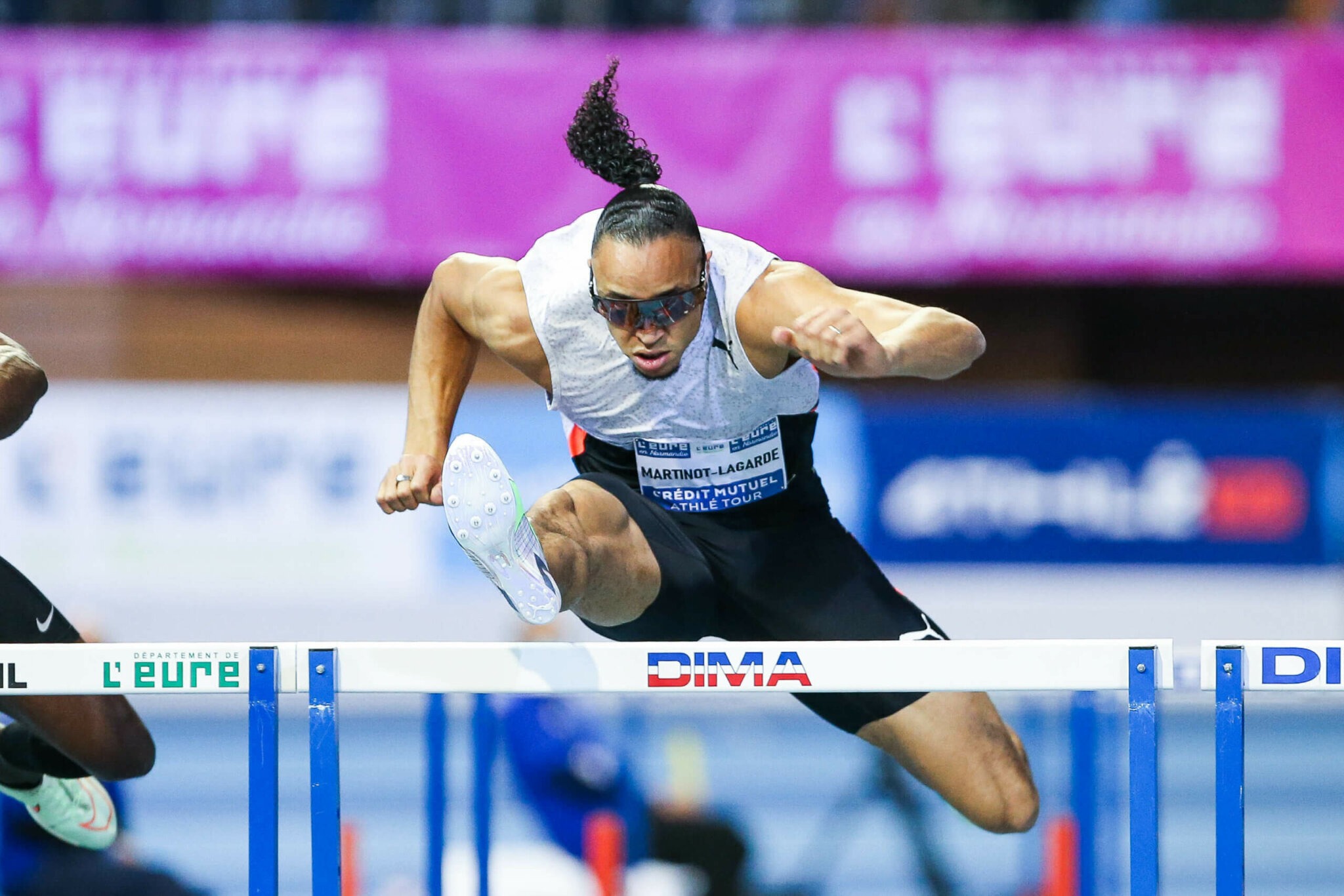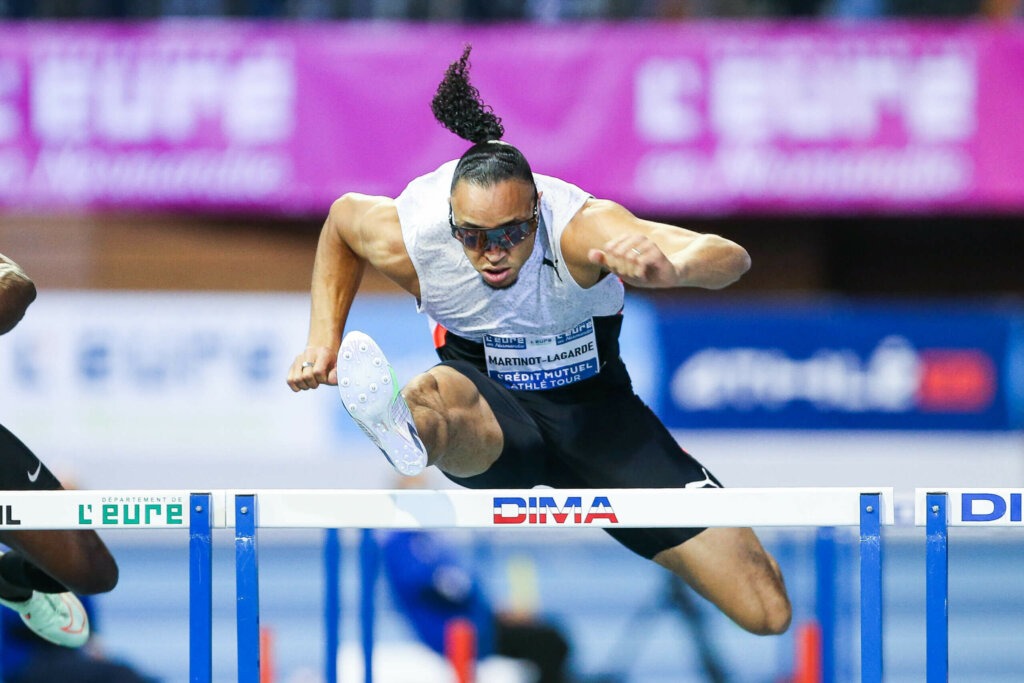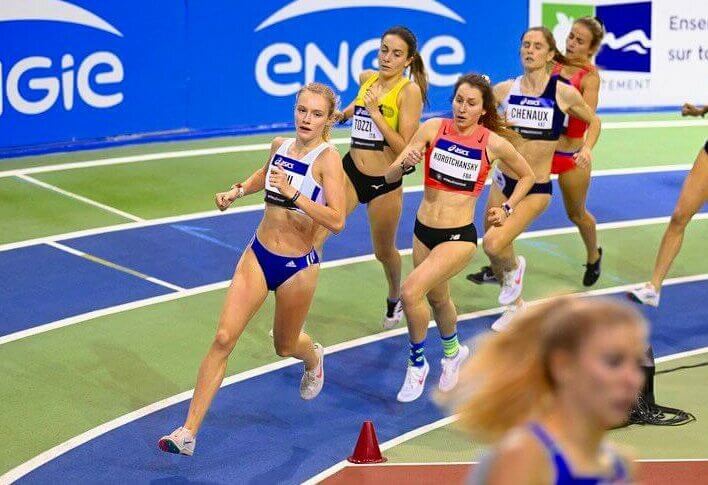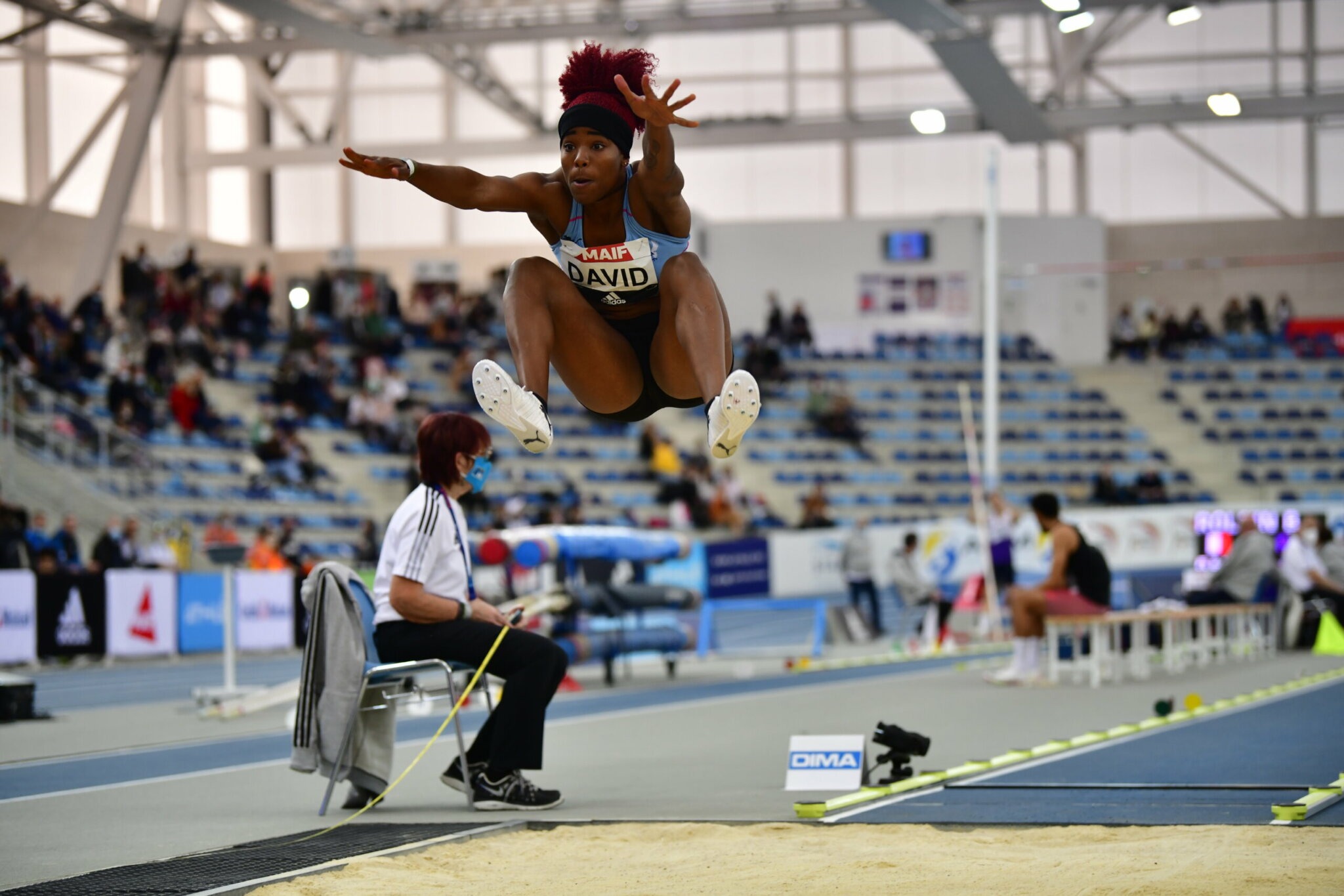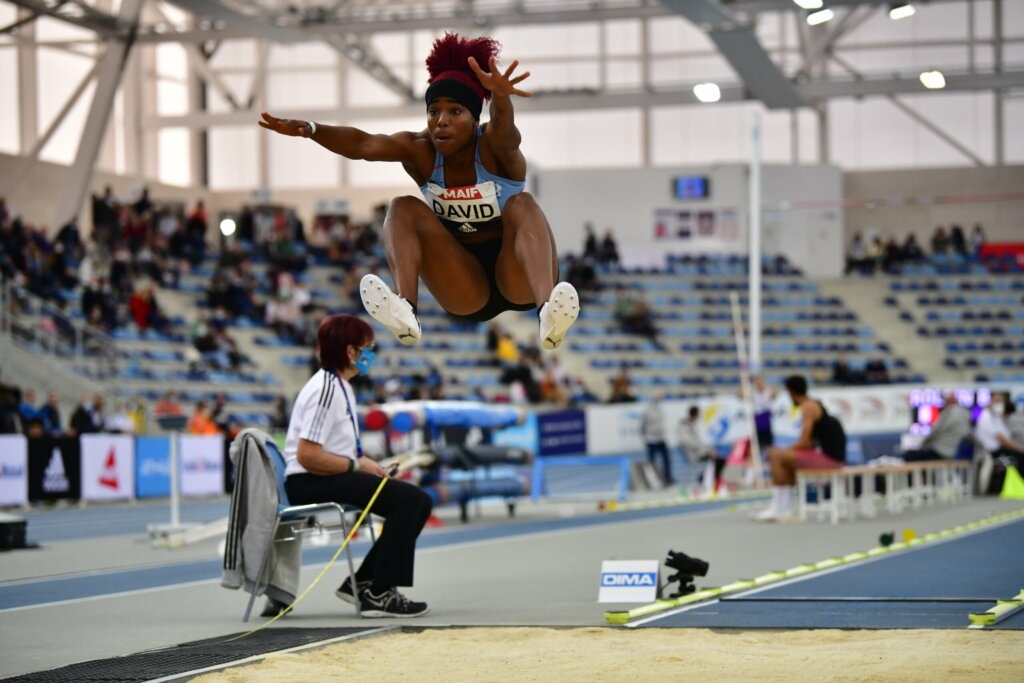 The oversole
The pad
The locking system SLW4
Flexible and light, once worn, you won't even feel it.
The KEY ONE is made of recyclable plastic, durable quality product and is suitable for all weather conditions.
The pad is the key to the KEY ONE, it protects the nails of your spikes.
Allowing you to walk off the track without damaging them.
The locking system SLW4 by Northwave it guarantees speed and simplicity.
This technology allows you to quickly put on your Key One.
You can adjust the tightness of your KEY ONE by turning the wheel in one direction and loosen it with one click. It's super easy.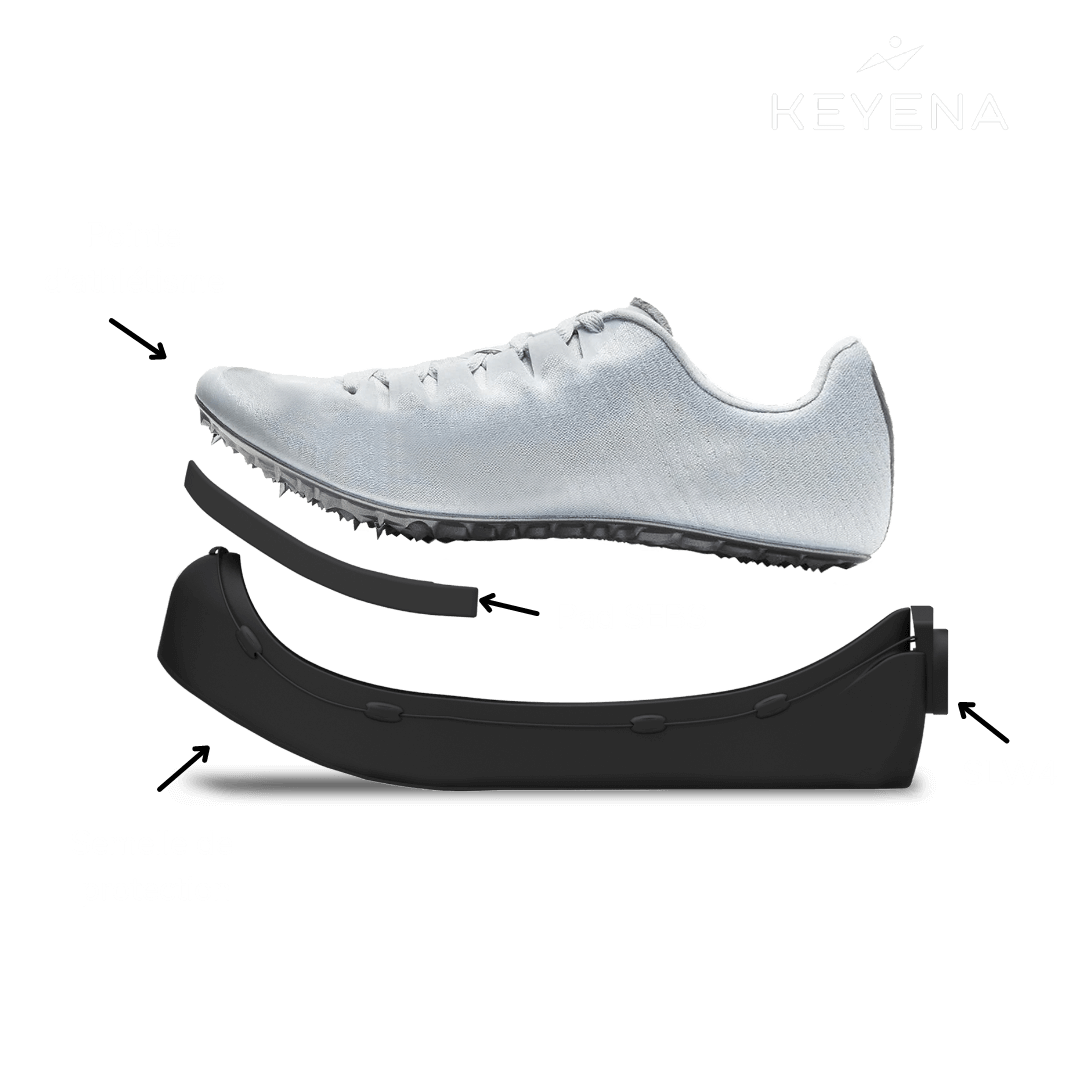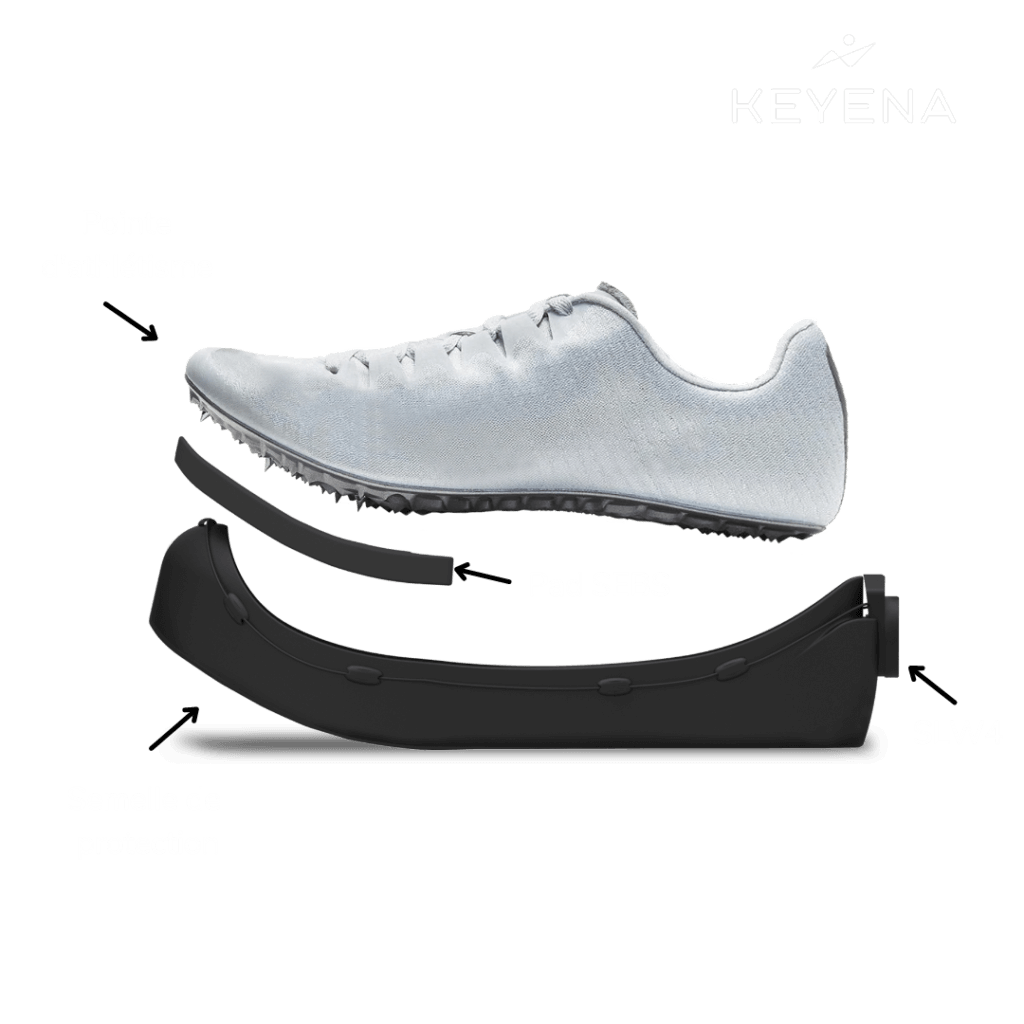 French disegn, Made in France, French labor
We are proud of our French partners in the design and manufacture of the KEY ONE, which allows us to control the quality of our product.
KEYENA has developed an innovation in the world of athletics with the help of an engineering office specialising in materials.
The development required adaptation with a very specific requirements,written by the founder, Coralie.

KEY ONE protective insoles for track and field spikes.
COMFORT
KEY ONE feel soft and light underfoot.
SIMPLICITY
Quickly put on and take off the KEY ONE: 3 seconds.
ADAPTABILITY
The KEY ONE is compatible with all models of spikes that exist in the 4 disicplines.
PROTECTION
With KEY ONE limit the wear of your spikes and protect your equipment in your bag.
The word from the founder.
The design of the KEY ONE was not easy, especially with my little experience in entrepreneurship and industry. Today I'm so proud of our product, of the manufacturing circuit, and the way athletes have adopted KEY ONE.
You want to know more about the brand ?
Our athletes the Key One ambassadors.
Discover the ambassador's opinions.